The Comfort of Foam Mattresses
Monday, August 24, 2020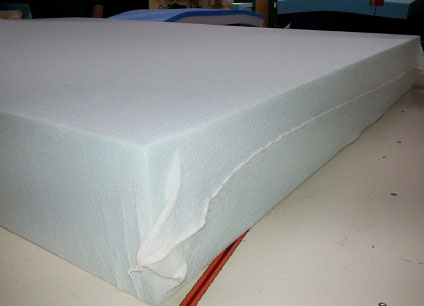 Have you been thinking about replacing your current mattress?  Maybe you are not quite ready to replace the mattress, but you certainly need to find a comfortable solution?  No problem!  Foam N' More specializes in fabricating foam mattresses as well as foam mattress toppers for the perfect firm mattress you have always dreamed of sleeping on!
From temporary use to everyday mattresses, Foam N' More has the materials and equipment you need to make the best quality foam mattress just for you!  If you're not sure what type of foam would be best for you, then you can always purchase a foam mattress topper sample pack.  This sampler pack comes with ten different samples.  The samples include memory foam, tough luxury, luxury-firm, premium medium, HD23 soft, and egg crate.  With these samples, you will have no trouble picking the best foam for your project!
For more information about the kind of foam materials that we offer, take a look at the brief list below to see the descriptions of the various densities of foam:
Luxury Firm Foam.  This foam has a 2.8lbs density with a 55ILD and is known for its firmness and support.  This foam is most commonly found as a mattress topper with firmer support to existing mattresses.  It can also be used for trucks, camping mattress, and massage tables.  The recommended thickness for this type of foam is one-inch to four-inch-thick.  Anything thicker is a much firmer feeling and is recommended for the weight of 300lbs.  It will offer you optimal support and comfort, especially for those who suffer from back and hip issues.  You can also put this foam under-mattress toppers for additional support.
Premium Medium High-Density Foam.  Otherwise known as HD36, this foam is known for its amazing comfort and durability.  With a 2.8Lbs density and 36ILD firmness, it is commonly used for mattresses that are 5" thick and thicker.  This foam is known as our "Fan Favorite" because it offers spectacular support and comfort without feeling too firm or soft.  With the ability to support but also comfort to the body, our customers have typically found this foam to be the "go-to" foam for any size foam mattress.  This foam is high density and rubber-based, so it is made to last 10 to 14 years with daily use and will support the weight of 300lbs or less.
HD23 Foam.  We offer this high-quality foam with an ILD of 23.  Most commonly used to soften your existing mattress, you can also use it as a bed topper.  It is also ideal for any kids or adults who like a softer feeling but still need support without compressing all the way to the bottom.  This foam is a 2.5lbs high density with a rubber base foam, so it is made to last 15 years with daily use and is most comfortable to use for people who do not exceed 250 lbs.
Standard Medium Foam.  Also known as a poly foam, this foam has a 1.8lbs density with 36ILD and is an inexpensive foam padding.  This material offers a firm-to-medium comfort and support feeling for the weight of 300lbs or less.  It is meant for occasional use or using it temporarily in the course of a year, such as a baby mattress, RV, camping, traveling, guest beds, and dog beds.  This foam will break down quicker than our other higher density foams.
Standard Soft.  This foam is a super soft foam that will soften any existing uncomfortable mattress.  Ideally used for kids, teens, and adults who like it soft, but cushioned comfortably if you are only using it a couple of times out of the year.  Very easy to roll and store in a closet.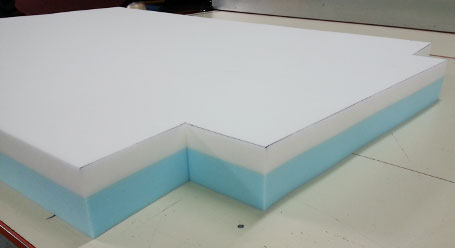 Click the links below to see the variety of sizes and shapes of mattresses we offer:
If you have any questions about what size or shape might be the best fit for you and your mattress, give us a call today!  One of our friendly representatives will be happy to help you find the mattress that best fits the needs of you.  Having trouble finding what you need on our website?  We can also do mix combinations and custom foam mattresses and foam toppers.  We can cut and glue the foam into exact measurements should you have unique dimensions.  This is perfect if you have a less standard mattress, like in a camper or RV, boats or yachts, customized round mattresses, and more.
The FR sock is a fire-retardant sock that goes over the foam (shown in our top photo above). It is required by law.  It goes over the foam and is not toxic as prior fire-retardant materials use to be.  All FR socks come with a zipper.  These mattress coverings will prevent the foam from wear and tear and other damp conditions, making your foam last longer.
Foam N' More: Foam Fabricators and Foam Mattress Manufacturer in Michigan
Foam mattresses are custom foam padding for a truly great night's sleep.  Call Foam N' More, the foam fabricator specialists today at (248) 284-0002 for any questions you may have about mattress foam and mattress padding, outdoor foam, pillow foam, patio cushion replacement foam, or any type of minicell or polyethylene foam near Troy, Michigan.