BACK SOFA REPLACEMENT
Back Cushions: *Back Cushion (Click To View)
How to Measure: https://foamforyou.com/back-cushions
If your original back cushions look clumpy, out of shape, or don't compliment your room, bring your sofa's back cushions to Foam N' More to renew their look as well as offer better comfort and support for your back. Using our top-of-the-line cluster fill filling will renew your worn-out back cushions with a fuller, fluffier, more plump appearance.
If casing is good just add more filling. We sell Feather & Down OR Cluster Filling by the pound.
You will be very satisfied to see your old back cushion looking new again! Depending on your sofa there are 3 different styles to choose from:
Turkish Corners Pleat

-Feather & Down OR Cluster Filling

Box Style

-Feather & Down OR Cluster Filling

Knife Edge

-Feather & Down OR Cluster Filling
Turkish Corners Pleat

-Foam with double Dacron

Box Style

-Foam with double Dacron

Knife Edge

-Foam with double Dacron
Most Common type of back fillings to use:
Most customers love the feeling of our cluster fill filling that is offered in an off-white casing. You can choose from a soft, medium, or firm feeling. All of our customers are happy to see the renewed finished product of their cushions.
If you do not like the idea of using cluster fill filling, we suggest using super soft foam with 2 layers of dacron wrap. This option gives a more square stiff look so you do not have to fluff your back cushion continuously.
Medium Cluster-fill With Casing is the most common type of filling to use for back cushions. Foam will have a firm boxy appearance so this medium cluster fill with a casing makes the appearance look good as well and comfortable.
HD23: This foam has medium to soft. It offers a high degree of comfort and will retain its shape and density. This foam grade is high-density soft foam. This kind of foam has rubber-based characteristics which means it will not break down like ordinary foam. If you are looking for comfort and durability then this foam is for you.
Plush Foam: This foam has a soft feel with good quality. It is commonly used for the back of sofa cushions but does not last as long as HD23.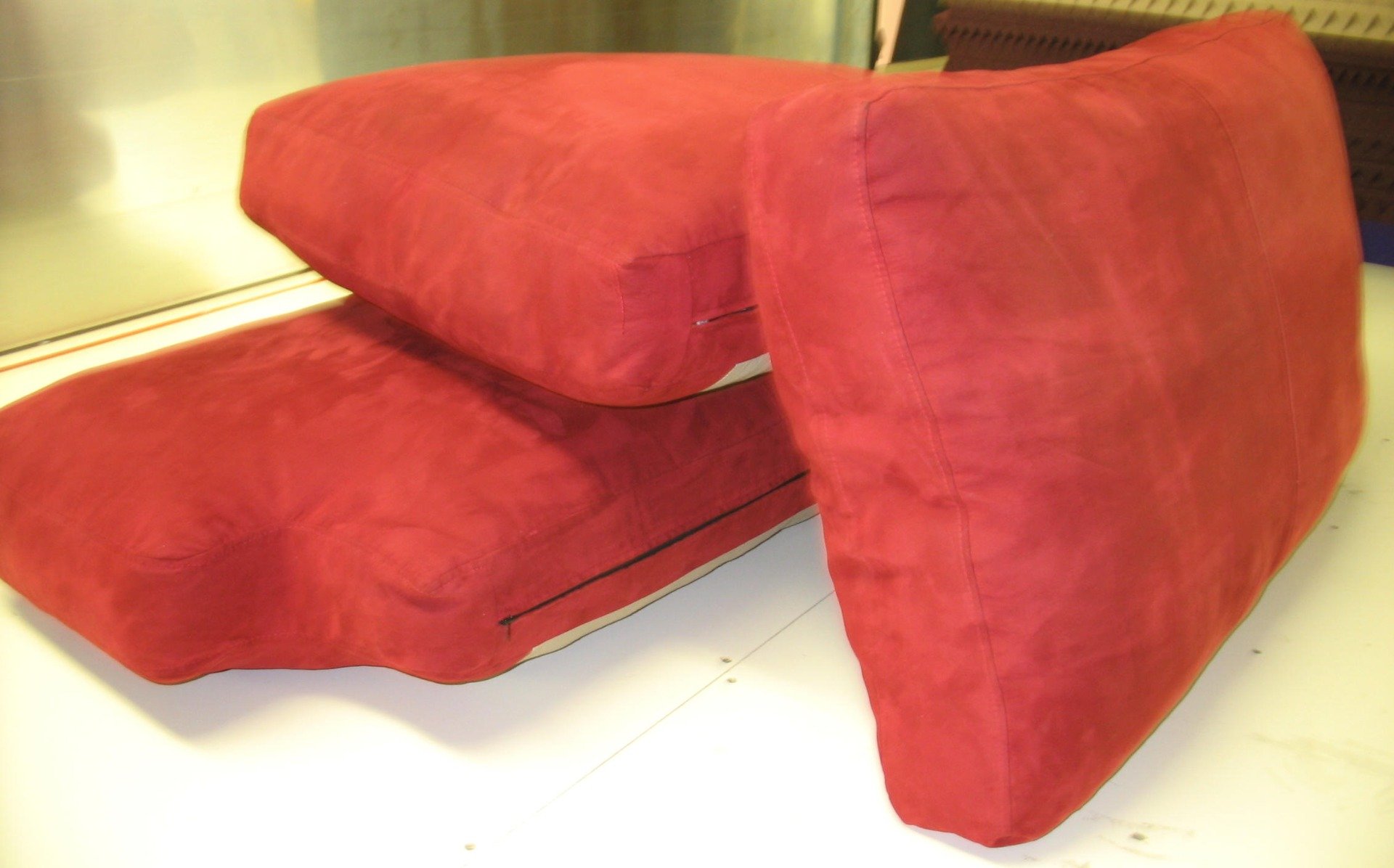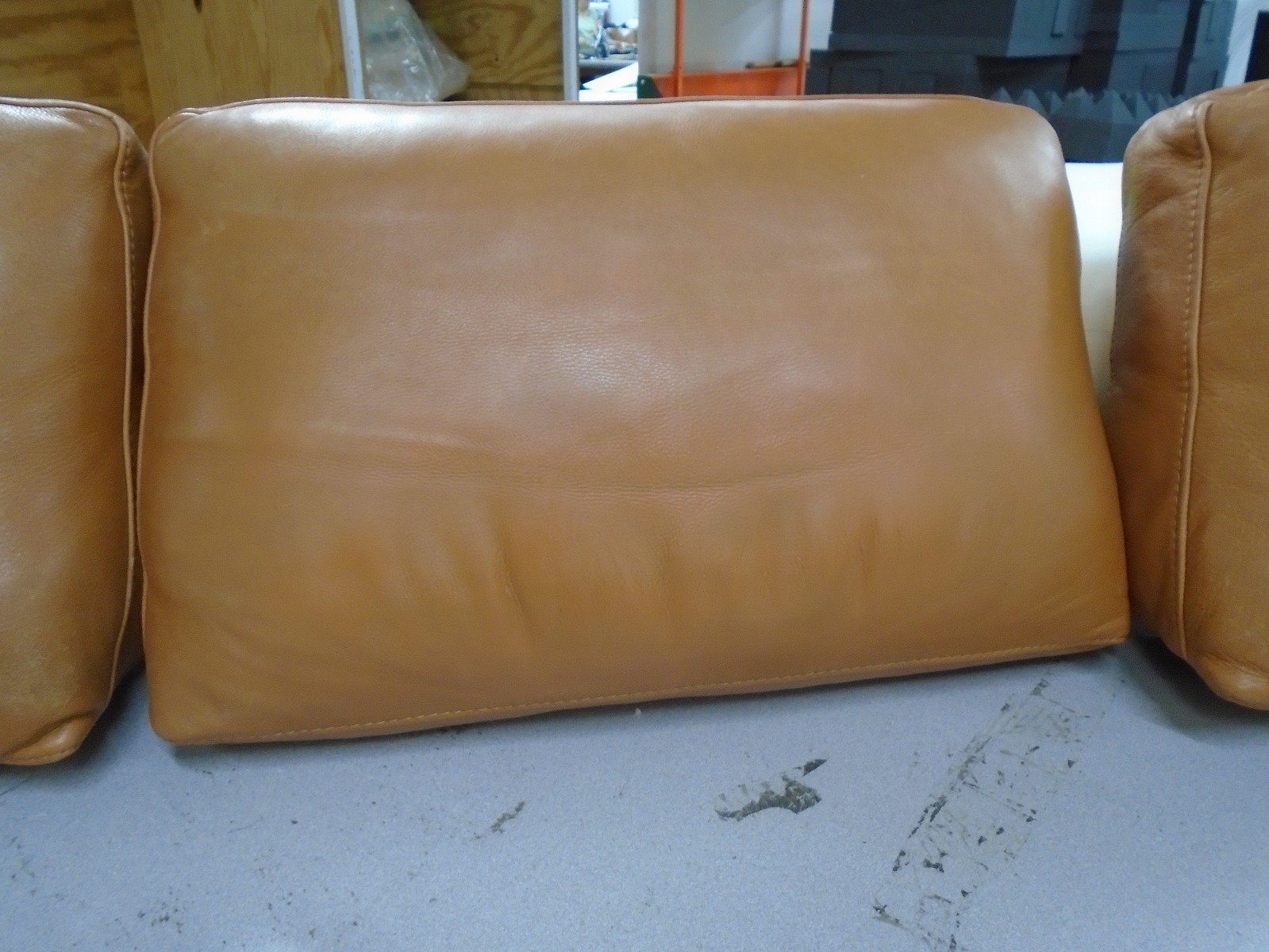 If your back covers don't have zippers, we can unstitch your covers, replace them with a new filling, and then re-stitch them.
The labor for re-stitching a back cushion is $20.00.
For most cushions, we can also add a zipper for $25.00.
Let us measure for you! For out of town customers, please mail in your empty back cushion cover to:

Foam N' More
1177 West Maple Road
Clawson, MI 48017
Please mark clearly on your covers:-
a. Your name, address, and telephone number
b. The thickness of the cushion you require
c. How many cushions do you require of that shape
d. Let us know the style of your back cushions: box style, knife-edge, or Turkish corner pleats.
e. The grade of filling you would like (We can ship out the back cushions within 2 to 4 days once we receive your cover)