WOW your Next Event with Foam Cutouts!
Sunday, August 7, 2022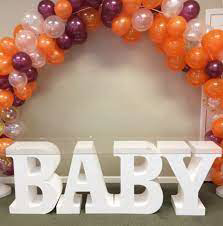 When you're throwing a special event, having the right decorations can really set the atmosphere and kick off the celebration. However, it's not always easy to find the perfect decorations at a fair price. But with Foam N' More, that's not a problem anymore. We offer a wide range of foam cutouts to decorate any celebration, and we can also do custom cutouts if you need something that we don't offer standard. Look through some of our options below to see if they meet your needs!
For events like a wedding or a large birthday party, you can decorate tables with an adjustable cake dummy for extra flair!
Perfect for graduation parties, the custom name design celebrates the graduate on their special day. Can be used as a table topper or as part of a display, and they come in packs of 10.
For both indoor and outdoor use, the happy birthday decoration brings the celebratory spirit to the party!
It's not every day you get to throw a baby shower, so go all out with our custom name baby shower decorations! We can put any name on the decoration, and we can make it for a boy or a girl.
Good for any celebration, from a birthday to an anniversary to a graduation party and more, our foam numbers can be set up inside or outside!
That's Not All!
We offer a wide range of other foam decorations, such as:
       Round & Square with Hollow cut out
       Solid shapes– round, square, rectangle, oval, star, and heart
       Floral Arrangement- round, square, rectangle, oval
       Solid Blocks
       Decoration– Numbers, Letters, Tubes, Photo Studio Prop
       Table decorations for birthdays, graduation, holidays & New Year's
       Hot Wire Knife
       Custom Polystyrene Foam
Foam N' More | Custom Polystyrene Foam Decorations
No matter the occasion, Foam N' More has you covered on decorations for the celebration! If our wide range of standard foam decorations doesn't include exactly what you're looking for, we can always make a custom decoration just for you.
To learn more, give us a call at (248) 284-0002 or send in an online contact form today!

More on Themed Party Decorations