Industrial Foam Protection Application
Tuesday, May 3, 2022
Foam N' More offers many solutions to pad and protect in any situation. With our variety of foam types and customization in shape and style, we can help you find the solution to meet your needs.
One of our most popular padding options is the pole bumper, which we offer in two types of foam:
Charcoal firm foam - We recommend this for indoor applications. It's a firm, open-cell foam. With 70ILD and 1.8lbs density, it will protect a person or object from getting from damage while protecting the column or pole beam itself, too. Pole bumpers can be installed on round, square, and rectangle columns, with or without switches and outlets. I-Beams, low beams, and even machinery can also be custom fitted with our pole bumpers to prevent any type of damage. A 1" foam padding is all you need to protect poles from most common damage, but we can go thicker than that if you need to. Pole bumpers are perfect for use in gyms, studios, heavy operations facilities, and warehouses. We can also create padding for corner angles and diagonal angles with or without vinyl covers.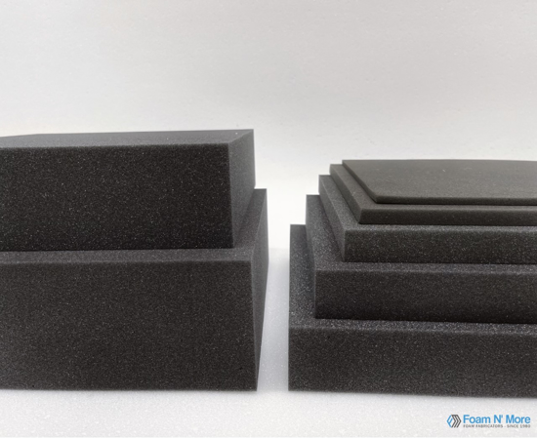 Minicell Foam – This is a closed-cell foam that is generally used for outdoor applications such as canopy poles, sandboxes, and fences to prevent kids from getting hurt. This foam is as firm as a gym mat and can be made free-standing in U-shapes, as well as round, square, and rectangle shapes. To get the best protection and value from this product, combine it with our durable awning fabric and use it on kids' playgrounds, outside operations, sports arenas, or outside lighting poles.
We offer wall and floor panels or mats in both charcoal firm and minicell foam. These are great choices for protection in gyms, sports arenas, wrestling, rehabs, children's centers, and dance studios.  We can also make covers for the foam with grommets for easy hanging and installation.
To protect any kind of item during shipping, whether it's small, large, heavy, or otherwise fragile, here are some great foam choices:
For protecting heavy or large items like steel, TVs, music equipment for concerts, or machinery, closed-cell foam is best. It comes standard in 4lb density, and if the item's weight exceeds 1,000 lbs, then we recommend the 6lb density to offer the proper level of protection. Closed-cell foam comes in full sheets so you can do your own cutting. If you would rather have us cut it for you, we can cut to custom order things like corner pieces or small rectangular pieces in any quantity. We also offer foam separations to place between each item, custom made, which can be reused repeatedly.
So, if you work or run a business that can use pole bumper protection or reliable protection for transporting goods, ask Foam N' More for help. Our experts can set you up with the perfect type of foam for your application, and we can make foam pieces custom to meet your needs.