High-Density Foam & Its Uses
Tuesday, January 11, 2022
High-density foam is an optimal choice for a variety of residential purposes.  This kind of foam provides some of the most support for legs and back issues as it is especially firm, yet very soft to the touch.  What's more, is that high-density foam is long-lasting with lifespans anywhere from 10-15 years — even with everyday use!


There are plenty of different options of high-density foam to choose from.  Whether you need this durable foam extra-firm for seat pads, or maybe sheet foam for packaging, Foam N' More carries a variety of products that use this long-lasting material.


Below you will find several products that we offer that have high-density, super strong, and resistant foam material.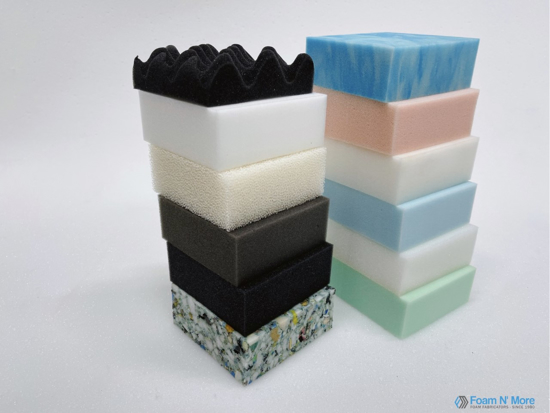 Get to know the foam first before you make this big investment!  Try our foam sample pack.  The sample pack includes 10 samples of different types of foam measured at 5" x 5" x 2.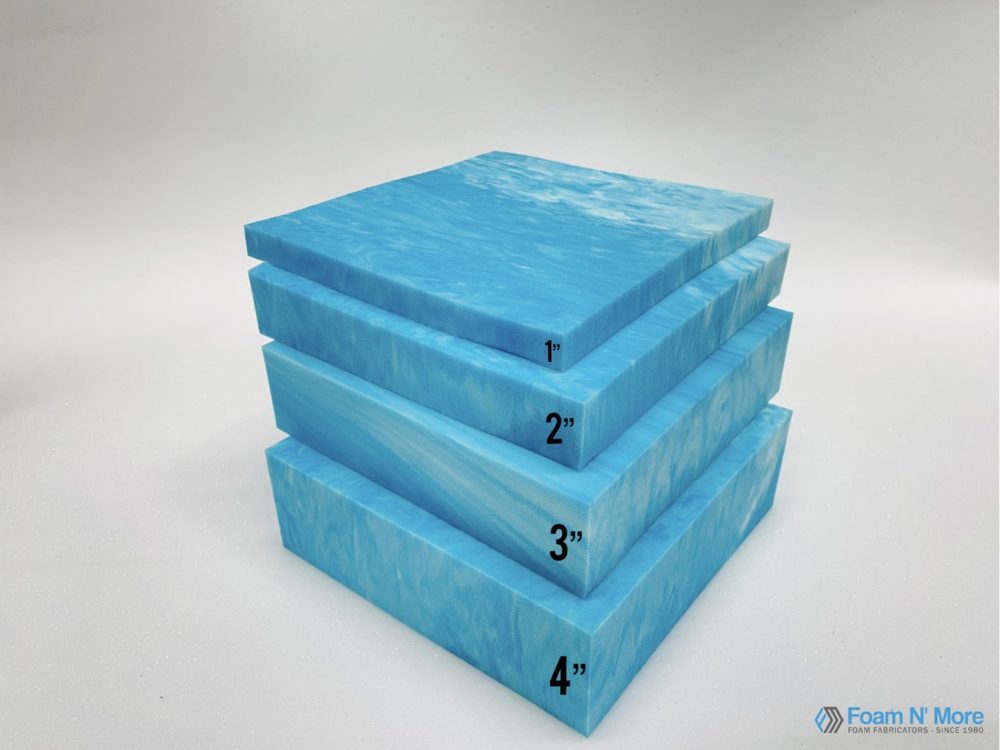 For superior comfort and support, use our four-pound gel memory foam.  With innovative dual-wave gel technology, this product provides cradling comfort and enhanced pressure relief.  This foam will increase circulation, contour, and mold perfectly to your body, reducing pressure points to give you the restful sleep you need.  This is the perfect topper for guest beds, air mattresses, waterbeds, daybeds, or any other mattresses you can think of.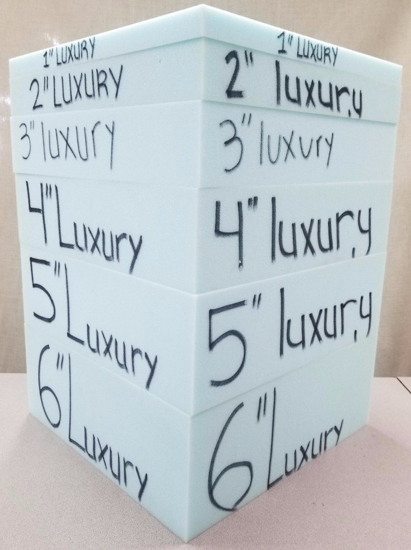 Our luxury firm foam is a high-density foam recommended for cars, seat pads, seat cushions, and massage tables 4" thick or thinner.  If you are looking for support and durability, then this foam is for you!  This kind of foam has rubber-based characteristics.  This means it will maintain its original shape and density for many years with a high degree of support.
This foam grade is very firm high-density foam.  For people that like more extra support, and firmness this is the foam for you.  This type of foam is recommended for sitting down for a long period of time, massage tables, car, and chair pads.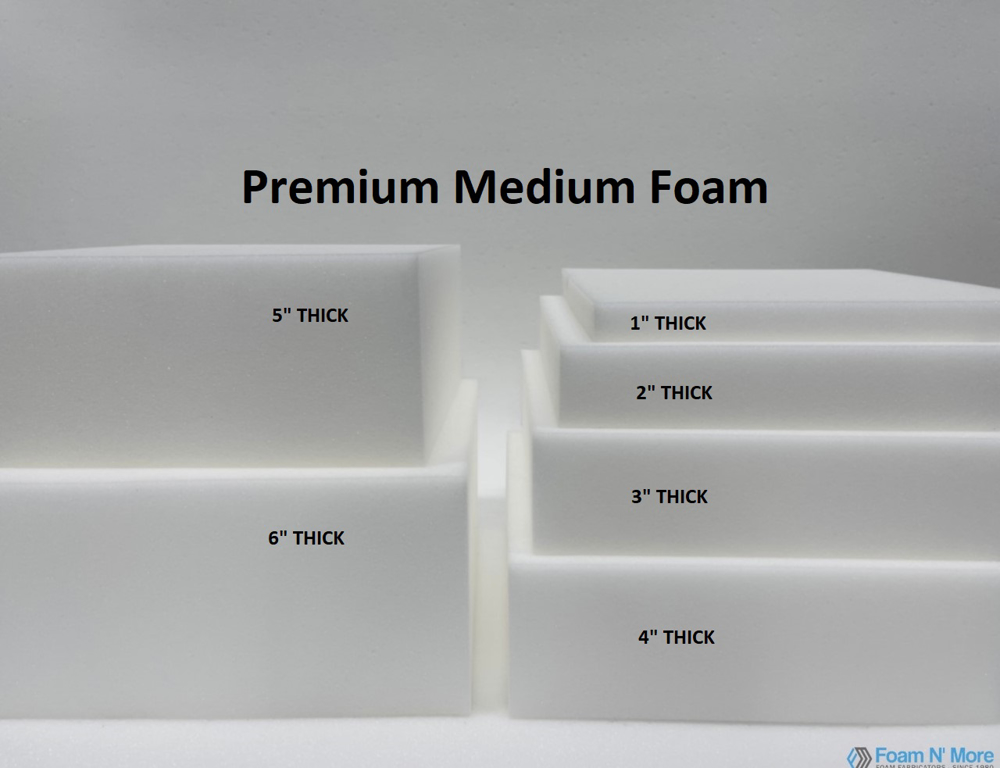 The premium medium high-density foam is recommended for sofa seat cushions 5" thick or thicker.  This foam provides comfort, durability, and will not break down like furniture store foam.  This is our most popular foam for seat cushion replacements and is highly recommended.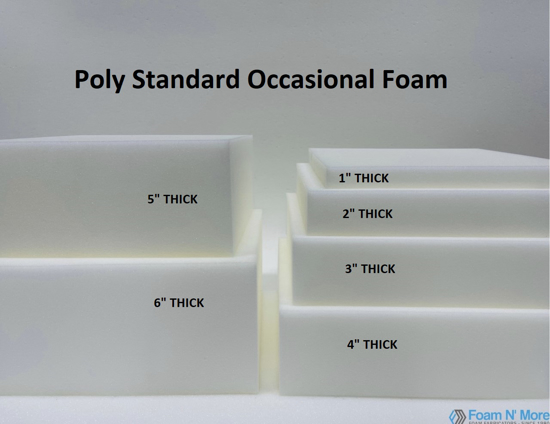 Standard medium foam is a medium-density foam used for upholstering headboards, baby mattresses, dog or cat beds, temporary sleeping foam toppers packaging protection, shipping or moving, and any other occasional mattresses or cushions used.
These are some of our most popular kinds of high-density foam, but you can find our entire selection on our website for the exact foam to fit your needs.
What Kinds of Products Use High-Density Foam
High-density foam is applicable in many different ways.  Since this foam is durable and long-lasting, the possibilities are endless — from occasionally used outdoor seating to bedroom mattresses used every night.  From extra firm padding to plush soft foam, there are many ways that high-density foam can add some extra comfort to your home!
Take a look at this list of some of our common products in which we produce high-density foam!
Car Seat or Desk Chair Pads
Window Seating
Outdoor Cushions
Carpet Padding
Ottomans
Mattress Toppers
Daybeds
Massage Tables
Medical Foam Wedges
Foam Sheets for Packaging
& So Much More!
Contact Foam N' More If You Have Any Questions!
If you have any questions about what size or shape might be the best fit for you and your mattress, give us a call today!  One of our friendly representatives will be happy to help you find the mattress that best fits your needs of you.
Have trouble finding what you need on our website?  We can also do mix combinations and custom foam mattresses and foam toppers.  We can cut and glue the foam into exact measurements should you have unique dimensions.  This is perfect if you have a less standard mattress, like in a camper or RV, boats or yachts, customized round mattresses, and more.
Foam N' More: Commercial Foam & Custom Foam Manufacturers in Michigan
Custom high-density foam is one of the most durable and comfortable materials to be inserted in your upholstery, bedroom mattress, outdoor cushions, and more.  If you have specific dimensions or designs in mind, we would like to hear from you, so let us know how we can help you by filling out the contact form on our website.