Face Masks & Face Shields for Protection from COVID-19
Wednesday, January 20, 2021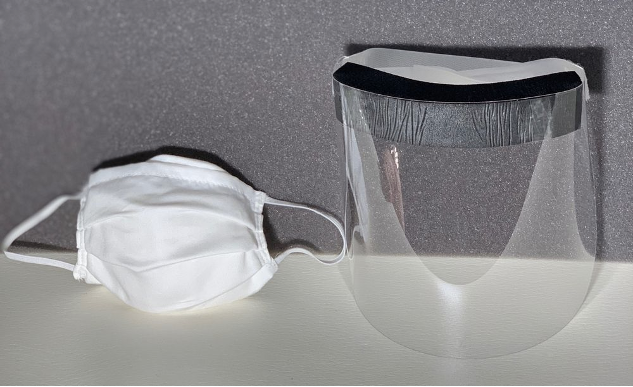 The COVID-19 pandemic has affected all of us in so many different ways, especially regarding the way we all interact with one another. The new normal has become vastly different within the last year, and we all need to do our part to make sure we don't continue spreading the Coronavirus more than it already has today.
With so many kinds of products out there to help our own protection against the virus, it can be hard to trust a product will be not only protective but also comfortable, too.  That is why Foam N' More Upholstery manufactures custom face masks with or without foam filters as well as custom face shields with foam inserts for all-day comfort.
Our COVID-19 personal protection mask is 100% cotton, hand-washable, and allows for abundant breathability throughout your time around others. The special lining is resistant and is non-woven, reducing the chances of expelling germs as well as preventing germs from penetrating through. Additionally, the fastening string allows the mask to be tied as loosely or as tightly as you need. While our standard mask costs $5.50, we also offer a premium mask with a foam filter.

Custom face shields are highly recommended to be used by healthcare facilities, such as hospitals, emergency rooms, nursing homes, dental offices, and more. Though, our COVID-19 face shields can be used just about anywhere outside your home, just like our masks. Face shields are less obstructive of breathing, allowing daily activities to be accomplished without the obstruction and overheating of masks. Our shields come with lightweight plastic material, adjustable velcro/elastic bands, and an open-cell foam strip for the ultimate comfort.
Above all, Foam N' More is helping aid the nation in manufacturing personal protection equipment (PPE) such as face masks and shields. These items are hand-washable and can be reused constantly with a thorough cleaning after each use. Maximize your social distancing with our masks and shields fit for all ages.
Custom foam masks and custom foam face shields promote healthy living, safe social activity, and extra comfort during such an unprecedented time. While we want you to enjoy the holiday season with family and friends, we encourage all to wear a mask or use a face shield to stop the spread of the Coronavirus.
Foam N' More: Commercial Foam & Foam Supplier in Michigan
Here at Foam N' More, we understand that buying through the middleman can be timely and expensive — but not anymore! By offering a wide range of products, the custom cut foam in our face masks and face shields results in premium products that last far longer than any other product in comparison.
In addition to face masks and shields, we primarily specialize in mattress foam and foam mattress padding, foam cushion replacement, pillow foam, bulk closed-cell foam, medical foam or orthopedic foam, chair foam replacement, cotton felt batting, or any kind of custom foam packaging near Troy, Michigan.
We would also like to hear from you, so let us know how we can help you by filling out the contact form on our website. Give us a call at Foam N' More and create the foam for you at (248) 284-0002.