Soundproofing With Foam
Sunday, March 5, 2023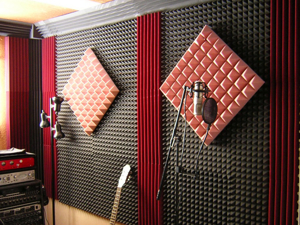 You can't put a price on peace and quiet, but with the help of Foam N' More, you can get peace and quiet in any building! For both homes and businesses, we offer soundproofing foam that will deaden any amount of sound. If you've got a busy street outside with horns blaring constantly, or you're stuck with loud neighbors who won't keep it down, our soundproofing foam will make you forget they're even there! Maybe you've got a recording studio that you want the perfect acoustics – we've got acoustic foam for that, too. We offer a wide range of soundproofing foam products, each designed for different areas of the building and to cut out different levels of noise. If you're not sure which you need, let us know and our experts can find the solutions that you need.


Acoustic Full-Size Sheets
One of the best options for soundproofing and for acoustic uses is the acoustic full-size sheet. This sheet goes on any wall and absorbs sound to eliminate it. It can be nice in an office setting, where multiple people are on the phone at once. With the acoustic full-size sheet on the wall, instead of those conversations bouncing all over the office, they'll be absorbed as soon as they hit the wall.
 
Ceiling Tile Panels
If hanging acoustic full-size sheets on the walls isn't quite enough for your noise level, we also offer ceiling tile panels. Ceiling tile panels come with hanging hooks, so you can fix them to your ceilings for added soundproofing. This is the perfect addition to an industrial setting where machines make tons of noise, or also for a recording studio where you want to get the acoustics just right.

Stone Brick Panels
For a stylish home, having black foam tiles all over the place might ruin your aesthetic. But with stone brick panels, you don't have to worry about that! They come with adhesive on the back so they can stick to any surface, like a wall, backsplash, or under a countertop. They are designed on the face to look like stone brick, so you can match them up to your interior design without sacrificing soundproofing. They are both mildew-resistant and thermal insulation tested, so they're safe in any kitchen.

Acoustic Eggcrate Convoluted
Another stylish choice is the acoustic egg crate convoluted foam. Instead of flat foam, this foam has an egg crate texture that not only is great for absorbing sound but also brings a unique look to your home or workspace. Their design is made specifically to dissipate noise, breaking up harsh sounds that would otherwise ring in your ears.

Create Your Own Soundproofing Kit
No two areas' soundproofing needs are exactly alike, that's why we offer a create-your-own-kit option. This option allows you to fully customize your soundproofing foam according to your specific needs. If you need help finding exactly which products you need in your kit, just ask! We can help you put together the perfect soundproofing foam kit so that you can have the peace and quiet you deserve.
Wide Variety of Soundproofing Foam Products | Foam N' More, Inc.
No one deserves to live or work in an atmosphere that is uncomfortably loud. It can ruin your sleep, your ability to host friends and family, and your chances of getting work done. The experts at Foam N' More can make disruptive noise a thing of the past with our wide variety of soundproofing foam products. We'll help you find what you need if you don't already know, and we can make custom foam products if we don't already offer what you need.
To learn more about our soundproofing foam, give us a call at (248) 284-0002 or send in an online contact form today!