Practice Your Shot with Foam Archery Targets
Sunday, August 21, 2022
Hunting season is just around the corner, so make sure you get your practice in to make this season the best one yet! Foam N' More offers a wide range of foam archery targets that you can set up to turn any backyard into a range.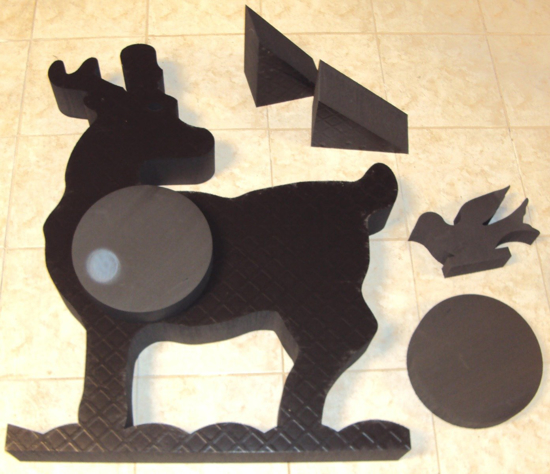 Made with 4lbs density foam, this 3D Deer Archery Target makes practice fun for children and teens! It's made of durable Minicell foam, and it comes with interchangeable round target circles that can be switched out when one gets damaged.
The Polyethylene 4 lbs Archery Target is a versatile choice for archery practice. It's made from extruded polyethylene which makes it perfect for outdoor use. This target comes in a variety of sizes and it can be cut into many different shapes depending on what you're looking to practice for.
If you're looking for a simple, dependable target, then the Minicell 4 lbs Archery Target is perfect for you. This target is weather- and insect-proof, so the only damage it will take is from your shots. It's not just an archery target, either. It can be used with rifles or any other small weapons.
These large targets are perfect for campground archery fields, as well as any other indoor or outdoor facilities. The Archery Targets with Wheels make for easy rearranging to set up any sort of target range you wish! It is made from layers of 1/8" thick 2lb density Minicell foam.
        

Archery Targets, Options #3, #4 & #5
We make our DIY archery targets with layers of 1/8" thick foam that allows you to switch out layers that have become damaged so that you don't have to replace the whole thing!
Option #3 is a total of 40" of foam layers which we can cut into any shape you want in. It's perfect to replace existing damaged archery foam, and you can even make your own frame for this foam if you prefer.
Option #4 is similar to Option #3, but it comes in a smaller size at a lower price. Option # 4 is 16" of 2 lb density foam, with a width of 48".
Option #5 is fully ready to use, encased in a wrapping that helps add friction to better stop arrows. It also uses the same layering system so you can replace damaged layers instead of the whole target.
Foam N' More | Custom Foam Archery Targets
We want to help you make this hunting season the best one yet, and with our custom foam archery targets, you can do just that. We'll help you and your family shake off the rust and get your shot back into perfect form. If you would like a certain kind of archery target that you don't see here, let us know! We can make anything out of foam, so just tell us what you need and we can make it for you.
Get in touch today to learn more by calling (248) 284-0002 or sending in an online contact form!