Polyethylene Foam and Its Uses
Tuesday, November 2, 2021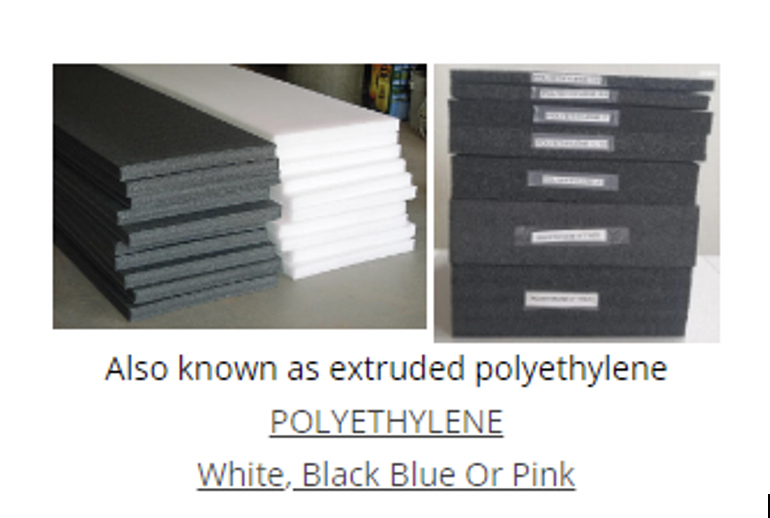 There are many usages and applications for Polyethylene Foam. Polyethylene foam comes in a 2lbs density closed cell foam that looks and feels like a kid's pool noodle. The available colors are black, white, blue, and pink. Foam N' More Inc. also offers this foam in a 4lbs and 6lbs density: available in a layered form or the special-order solid thickness. Call or email us today for more information!
Polyethylene foam is ideal for use in a variety of different applications.  The most commonly used density is 2lbs which is perfect for holiday package shipping needs including heavy items or things that have sharp corners and edges. Our closed-cell rigid Polyethylene foam is also great for use in foam packaging as its texture and density are what offer such solid protection on sensitive items when shipping and handling larger, more fragile items such as computers, glass, etc. This foam also absorbs shock while in transit which helps to keep your items secured and protected in the case of bumpy travel or careless handlers.
Our full sheet of Polyethylene foam is 48" x 108" and ranges in thickness from ¼" up to 4" thick. This closed-cell foam can be cut down into custom-sized strips, can be shaped and cut into circles, and can be glued together to achieve higher thicknesses. Foam N' More Inc. can cut custom shapes for protecting your delicate equipment like TVs, telescopes, and heavy machinery or electronics.
Our 4lb Polyethylene is also commonly found in archery targets, which make for great Christmas gifts for a loved one who is interested in archery or hunting activities.
This closed-cell foam material is resistant to bacteria, water, mold, and mildew. It will absorb shock and vibrations from even heavy impacts, offering unmatched protection. Polyethylene also floats on water and gives good buoyancy which makes it great for creating floating decorative objects, as well as insulation. Any polyethylene foam densities can also be precisely cut using our waterjet machine into any shape for any application. Give us a call at (248) 837-2430 or send us an email today to learn more!