Outdoor Patio Cushions and Outdoor Seating
Wednesday, September 9, 2020
After looking at your patio furniture, are you debating on throwing it out? Take a look at replacing your old cushions with our outdoor foam!
Traditionally, companies have manufactured outdoor cushions using polyester pillow fiber because it is an expedient product. However, as economical as this material may seem, it tends to flatten quickly, leaving cushions feeling like saggy old bed pillows.
If your cushions are beginning to compress, it might be time to consider replacements. Our superb outdoor cushion foam comes in three levels of firmness: soft, medium, and firm. All options offer a comfortable upgrade from the cheap polyester fiber that will last much longer and better maintain its form.
The porous texture of our outdoor foam allows water to pass right through it. This open-cell structure also works against waterlog and prevents mold and mildew from developing. When the foam gets wet, you can drain it by simply turning the cushion on its side and waiting for water to flow out. It only takes a few hours of dripping and drying under the sunshine before your patio furniture is ready for lounging anew.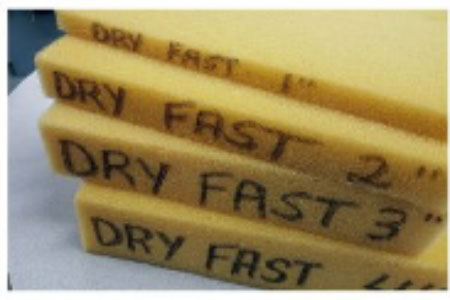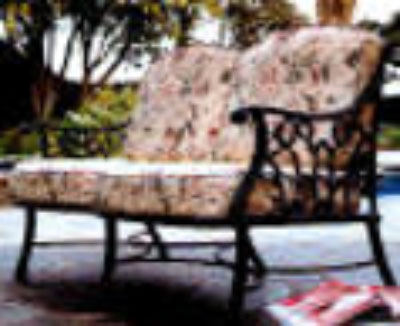 Outdoor foam is one of the highest quality types of foam that we supply, meaning that you can expect healthy longevity for your cushions. The foam's high density (1.8lbs/cubic foot) helps it keep the shape for years. In contrast, items made from inferior foam or polyester may appear nice at first—but it only takes a short while before they start to distort.
A durable outdoor cushion requires an equally tough cover to protect it from rain and direct sunlight. Foam N' More offers fabrics that resist the elements, including Sunbrella® and Marine-grade vinyl. Moreover, the in-house seamstresses sew cover fabrics both inside and out to ensure that the covers don't unravel when cleaned.
The foam has an open-cell structure that resists wetness.

The outdoor foam dries almost immediately after exposure to rain, salt spray, melting snow, morning dew, washing, or other types of moisture and humidity. The material is recommended for outdoor seating applications such as patio furniture, golf carts, boat seats, or wherever cushions are exposed to the effects of nature.
Foam N' More will walk you through every step of determining which foam is best for your needs by using the custom replacement cushion tool. We even include videos and tutorials on how to accurately measure the dimensions and enter the data into the calculator before placing an order.
Your new cushions can be prepared the same day and will be shipped to you within 1-3 business days. Call and speak to one of our sales reps today!  – We also provide "while you wait for" service.
You can click this link to learn how to measure your cushions for replacements.
Look at replacing those patio cushions and outdoor seats with Foam N' More's outdoor foam! 

Call Foam N' More, the foam fabricator specialists today at (248) 284-0002 for any questions you may have about any type of foam pillows.  We are located near Troy, Michigan.

You can also check out Foam N' More's outdoor foam products on our website.