Not Ready to Replace your Mattress? Try a Mattress Topper!
Sunday, July 31, 2022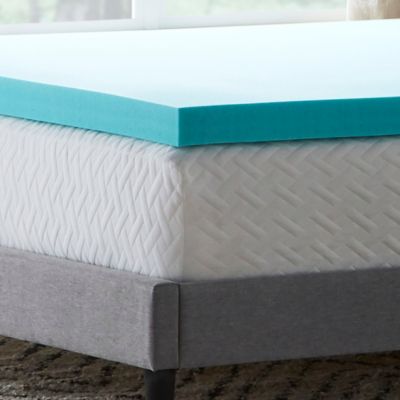 Getting a brand-new mattress can be an investment. If you're looking to upgrade your old mattress without the new mattress cost, adding a foam topper can be the perfect solution. Our wide selection of foam mattress toppers makes it easy to transform the comfort and feel of your mattress without having to fully switch it out. Check out our selection below!

Foam Mattress Topper Sample Pack
We'll break down each of our options in this article, but if you want to feel each one for yourself then pick up a sample pack! We'll send you a 5" by 5" sample of each mattress topper we offer so you can know for sure that you're choosing the right one.

Convoluted Eggcrate Foam Topper
The Convoluted Eggcrate Foam Topper is a cost-effective option to improve your mattress. While it's not bulky, it still offers the comfort and support you need to wake up without a stiff back.

Dunlop Latex Mattress Topper
The Dunlop Latex Mattress Topper is one of our most luxurious options. It has Tri-Zone cores which increase its durability and comfort. This means that the head zone, middle zone, and foot zone have different cores, where the middle zone is firmer than the head and foot zones. This allows the mattress topper to last for years while molding comfortably to your body.

Mattress Topper Solution
The Mattress Topper Solution is our most popular mattress topper. It has an inch of gel memory foam to add extra comfort to any mattress. It also has a layer of foam of your choosing, based on whether you want a soft or firm sleep. That's why we call it the Solution, it can make your mattress firmer or softer depending on what you need.
We sell it in 2" and 3" thicknesses. The 2" is better for adding to your mattress, while the 3" can double as a guest bed to replace the old uncomfortable cot at the next sleepover.

Memory Foam Mattress Topper
If you want to feel like you're sleeping on a cloud, then the Memory Foam Mattress Topper was made for you. We use 4 pounds of gel material to create this memory foam mattress topper. This makes sure that you'll sink comfortably in, getting the support you need without the firmness that leaves you waking up with back pain.
Foam N' More | Custom-Made Mattress Toppers
Whether you've got a day of fun or a day of hard work ahead of you, the quality of your night's sleep will determine how your day turns out. You don't have to throw out your current mattress and pay big money for a new one, just pick up one of our custom-made mattress toppers for a fraction of the price! You'll get all the comfort of a new mattress and more without taking a hit on your budget.
Get in touch today to learn more about our foam mattress toppers by calling (248) 284-0002 or sending in an online contact form!