Medical Leg Wedges for Optimal Support
Wednesday, September 23, 2020
Have you recently found your back aching after lying down to watch television or read a book?  Are you finding yourself slouching while driving your car?  Maybe you need better support while you sleep during the night?  A lot of back pain and aching muscles are caused by lying down at an awkward angle and moving your back or legs a certain way.  With a custom foam wedge by Foam N' More, our premium foam fabrication will improve circulation and is therapeutically beneficial for relieving lower back and leg pain.
The multi-purpose polyurethane foam bed wedge provides comfortable back support for a variety of positions.  This type of support is ideal for head, foot, or leg support elevation while lying down or lounging.  Coming in 6", 8", 10", or 12" thickness, this wedge will help manage respiratory problems as well as ease neck, shoulder, or back pain.  All foam wedges are covered in a white, zippered terry velour cloth fabric with removable features for easy washing.
If you are recovering from surgery, or currently living with a medical condition putting a strain on your leg and back muscles, just ask one of our friendly support staff members how we can cut a new leg bolster shaped just for you.  Our foam bolsters work great anytime you need an angled surface to be used as a leg or backrest.  We offer bolsters with or without covers and we can also make custom bed bolsters for your specific bed dimensions.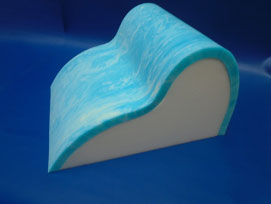 For those who need an orthopedic pillow or similar medical insert, our custom pillows and wedges help support the natural curvature of your neck while their slight concavity accommodates the shoulders.  When you rest on your side and are angled properly, the support follows the line of the chin, ensuring the support of both the head and the neck.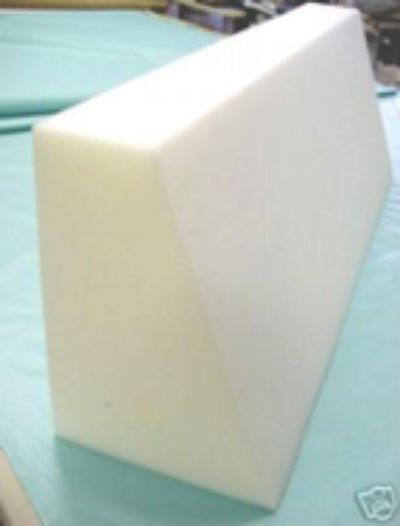 Frequent car drivers and passengers will certainly benefit from our custom slimline back support pad designed to promote correct seating posture and decrease stress to the lower spine and legs.  Our custom padding can be topped with an extra layer of memory foam to ensure extra comfort for those often long hours in the car.  Back support pillows are valuable in that they prevent all sorts of strain and stress on the back while sitting in the car.  Believe it or not, the back tends to take on a lot more stress sitting in the car than we think!  Our car seat wedges help to alleviate the effects of back issues such as muscle tension, weakness, or even tissue damage.
Here at Foam N' More, we understand that buying through the middle man can be timely and expensive — but not anymore!  By offering a wide range of products, our custom cut foam can be designed to use for leg or back issues catered to your exact needs!  Our medical foam products are made from all kinds of materials including our standard poly foam to the premium, high-density foam for the ultimate comfort.
Foam N' More: Commercial Foam & Foam Back Bolster Manufacturers in Michigan
Foam bed wedges are custom foam packaging for a truly great night's sleep or pain-free lounge. Call Foam N' More, the foam fabricator specialists today at (248) 284-0002 for any questions you may have about mattress foam and mattress padding, outdoor foam, pillow foam, bulk closed-cell foam, patio cushion replacement foam, or any type of minicell foam or polyethylene foam near Troy, Michigan.