How To Measure Your Cushions
Wednesday, September 9, 2020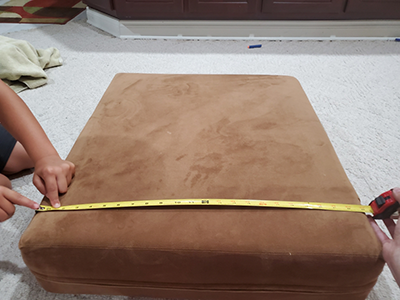 Do you need to replace the foam on your sectional, couch, or sofa seat cushion? All you have to do is add your sizes on our drawing calculator page and Foam N' More will cut the foam to shape and size and add Dacron wrap.
If you would just like to give us measurements for your foam cushions for new foam fillings there are a few things that need to be taken into consideration. The new foam interior needs to be slightly bigger than your cushion cover. This allows the foam to be slightly compacted and will help it to fill out the cushion cover properly. If the foam interior is small, then your cover may wrinkle when you sit on it.
When replacing foam cushion interiors with new ones, you will need to add as a general rule 1" to the cushion width and 1" to the cushion length. It is advisable to add ½" to 1" to the depth of the cushion as well. If you are adding a Dacron wrap to your cushions it is not necessary to add these extra measurements. Dacron wrap is recommended and will ensure that your cushions have a domed appearance rather than looking too flat.
You can click this link to learn how to measure your cushions for replacements. You can also put all your measurements on this link of the website, (https://foamforyou.com/foam-packaging-services/custom-cut.html), if it is a square, rectangle, T-shape, L-shape, circle, or trapezoid shape.     
| | | |
| --- | --- | --- |
|   |   |   |
| Width: Measure seam to seam. This photo measures 23", you can add 1" to make it 24" or keep it 23" and add Dacron wrap | Length: Measure seam to seam. The front part of this cushion does not have a seam; it's rounded and has a seam in the middle. So be careful when measuring, the flat part of the length measures 26" but because of the curve, you will need to make it 27" in length. If you don't add Dacron wrap you need to make the cushion 28" | Thickness: Measure the back end of the cushion where the zipper is. If you measure seam to seam you will need to add 1" more. If you measure from the floor to the top of the cushion (put a piece of cardboard on top of the cushion) then you don't need to add. This cushion you will need 7" thick foam. |
Foam N' More will walk you through every step of determining which foam is best for your needs by using the custom replacement cushion tool. We can also give you step by step tutorial on how to accurately measure the dimensions and give you a price quote before placing an order.
Please mark the following items clearly on your covers:
Your name, address, and telephone number.
The thickness of the cushion you require.
The number of cushions you require of that shape.
The grade of foam you would like.
As soon as your covers come in, we will call you to finalize the order and the lead time is 1 to 2 weeks.
Look at replacing those patio cushions and outdoor seats with Foam N' More's outdoor foam!
Call Foam N' More, the foam fabricator specialists today at (248) 284-0002 for any questions you may have about any type of foam pillows. If you are not sure your measurements are correct, please feel free to come to bring in your covers to the store or mail in your covers to:
Foam N' More, Inc., 1177 West Maple Road, Clawson, MI 48317.
You can also check out Foam N' More's outdoor foam products on our website.