Is It Time To Replace Your Back Cushions?
Sunday, October 31, 2021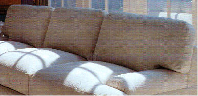 Over time, your couch's back cushions will start to break down due to extensive wear from kids or pets, or even just regular intended use. They may start to sag or offer less cushion than they used to, which can ruin your favorite couch. This happens to both residential and commercial furniture. Even if you don't use your furniture often, its foam will have to be replaced at some point. So, keep Foam N' More Inc. in mind when the time comes. Deterioration timing ranges depend on the quality of the foam and fills. It can happen in as little as one year or over as many as 15 years. Whenever the furniture begins to sag, feel flat, and lose its original comfort, you'll know it's time for a change.
Replacing Your Back Cushions
When the time comes, you have a few options to consider. You can have your couch back cushions professionally refilled, or you can replace them yourself. In either case, you should use the right foam, fills, and wraps to ensure the longest life and highest value and to reduce the need for constant refilling.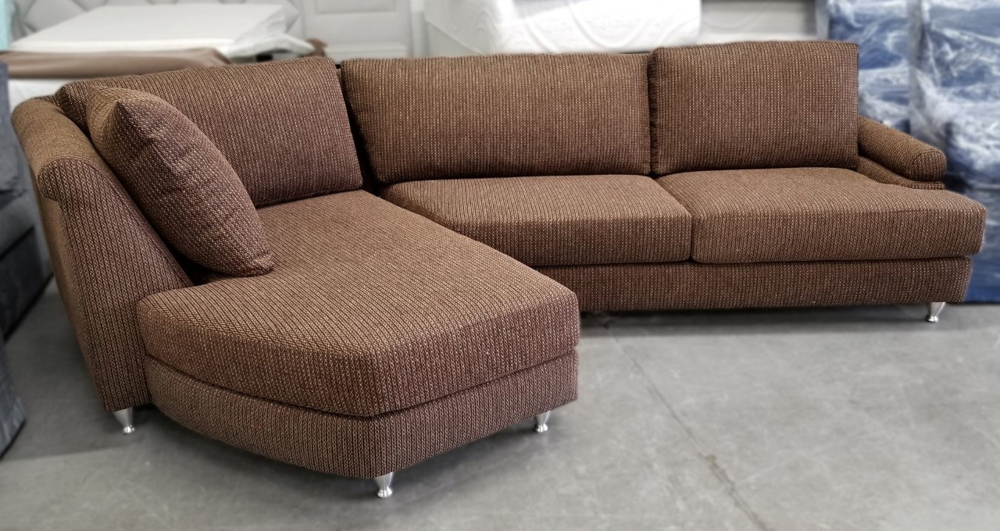 Here at Foam N' More, we offer a wide range of materials to suit most cushion needs. You'll get the quality material that restores your furniture's original feel and beauty so it's as comfortable as a brand-new piece of furniture. We can find solutions that get restore your furniture's original quality, or we can customize the feel of the foam to better suit your needs. Whether you need to replace the back cushions or the entire frame, we have the right materials for all your furniture needs. We can even handle your reupholstery work for you. Contact us for more details.
Custom Made to Fit Your Needs
If you plan on replacing the sofa cushions yourself, we can provide you with custom-cut foam, fills, and/or foam wraps to fit your cushion's specific dimensions. All we will need is the exact measurements of each cushion, or we can just measure them for you at our store. Once made, the cushions go directly inside the cover. If your cushions don't have covers that unzip, we can do the upholstery work for you.
We'll supply you with all your material needs to suit any purpose. Do you need your back cushions to last for years, or do you just need a quick fix at a low cost? Do you want to match the feel of your current furniture, or would you prefer something softer or firmer? Our expertise makes us flexible so can work with you to select the perfect material for your sofa cushion replacements.
Fills and Wraps
The most common type of filling for back foam cushions is cluster fill (also known as polyfill) which closely resembles soft cotton or down fiber. To save on costs, you can order the soft cluster full dacron by the pound and insert it in your original casing yourself. Or, let Foam N' More custom make a new casing with 3 channels to better hold and preserve the shape and appearance of your cushions. Feather & down filling is also available to bring a softer look and feel to your furniture. No matter which material you like the best, we have what you need to restore the beauty and comfort of your sofa or chair.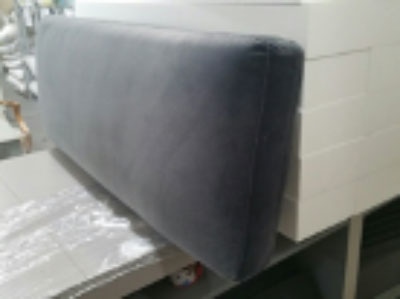 If you have pets or kids that will wear down your furniture, cluster fill may not be the right option for you. In some cases, we recommend foam with a double layer of Dacron wrap that will completely encase it without a separate casing or zipper. If this is what you would like done with your furniture, all you have to do is provide measurements, make a paper template, or provide us with the original covers, and we can make the foam and case for you. Once it's made, all you'll need to do is unzip the upholstery cover and insert the cushion (we can do this for you, too).
Caring for Your Cushions
It's important to flip your back cushions regularly to maximize their useful life and reduce the need for avoidable future sofa cushion replacements. As one side of the foam breaks down, flipping to the opposite side will allow the stronger side to handle the load while the original side restores its thickness and shape. Sagging is reduced on each side, giving you more use over time.
If your cushions don't have the same fabric on each side, then just unzip the cushion, flip the cover, and zip it closed so you use the other side of the cushion.  This step should be done once every 6 months to 1 year. Completely replaced filling in your back cushions should be able to last up to 10 years with normal everyday use.
For cushions with feather down and cluster fills, you can restore the cushion's shape and increase its performance by regularly plumping each cushion. All you need to do is lift each cushion and push inward on all outer sides, then shake each cushion, so the inner material distributes evenly. Our three-channel casing system is recommended so that you do not have to do this step very often.
SEAT SOFA REPLACEMENT
Bring in or mail your seat and back sofa cushions to have their foam replaced. It's quite an easy process!
1) Bring your cushions in – or just mail in your sofa covers.
2) At the store or over the phone, our sales representatives will help you choose the foam that suits you.
3) Your new seat cushions can be prepared the same day – We provide "while you wait" service.
We offer different types of density foam. We carry firm, medium, and soft.
We can replace foam in any sofa cushions, including T-shape, L-Shape, beveled, and or round cushions. We also supply fiberfill dacron wrap to give the cushions a softer and more rounded look. We can repair your existing cushion covers, or we can custom make new covers for your cushions as well.

For out of town customers, please mail in your empty cushion covers to:
Foam N' More
1177 West Maple Road
Clawson, MI 48017
*Along with the empty cushion covers or paper templates, please leave your name and phone number so that we can contact you as soon as it comes in.
Please note: When comparing different types of foam with other companies it is most important to look at the density and ILD of the foam.
Most Common type of seat foams to use:
Premium Foam: This foam grade is medium high density foam. It is what we recommend for sofa seat cushions 5″ thick or thicker. If you are looking for support, comfort, and durability, then this foam is for you. This kind of foam has rubber-based characteristics which means it will not break down as quickly as ordinary foam. It will maintain its original shape and density for many years. This is our most popular foam for seat cushion replacements and is highly recommended. *No FR Additive*
Luxury Foam: This foam grade is firm high density foam. This type of foam is recommending for car seat pads, church pews, bay window seat cushions, dining room chairs, chair pads and massage tables 4″ thick or thinner. If you are looking for support and durability, then this foam is perfect. This kind of foam also has rubber-based characteristics, meaning it will not break down as quickly as ordinary foam. It will maintain its original shape and density for many years. This Foam grade has a firm feel offering a high degree of support while retaining its shape and density. *No FR Additive*
We also have Dacron wrap available for your cushions. Dacron gives the cushion a rounder and fuller look, rather than a flat square look. Dacron also protects the foam from rubbing against the fabric covers which will help to extend the foam's usage period. Double Dacron wrapping is also available upon request. Please contact us for additional details.
BACK SOFA REPLACEMENT
If your original back cushions look clumpy, out of shape, or don't complement your room, bring your sofa's back cushions into Foam N' More to renew their look while giving you better comfort and support for your back. Using our top-of-the-line cluster fill filling, we will restore your worn-out back cushions to give them a fuller, fluffier, plumper appearance.
Most customers love the feeling of our cluster fill filling and prefer the look of it in an off-white casing. You can choose from a soft, medium, or firm feeling. All of our customers are happy to see that their back cushions look brand new again.
If you do not like the idea of using cluster fill filling, we suggest you choose super soft foam with double layers of Dacron wrap. This option gives a more square stiffer look so you do not have to fluff your back cushion continuously. Due to its added durability, this is the most common choice if you have pets or kids who will add to the regular wear and tear of your couch.
If your back covers don't have zippers, we can unstitch your covers to replace their filling and then restitch them.
The labor for restitching a back cushion is $6.00.
For most cushions, we can also add a zipper for $11.00.
For out-of-town customers, please mail in your empty back cushion cover to:
Foam N" More
1177 West Maple Road
Clawson, MI 48017
Please mark clearly on your covers:-
a. Your name, address, and telephone number
b. The thickness of the cushion you require
c. How many cushions you require of that shape
d. The style of your back cushions: box style, knife edge or Turkish corner pleats.
e. The grade of filling you would like
(We can ship out the back cushions within in 2 to 4 days once we receive your cover)
You'll be amazed to see your old back cushion looking brand new again! Depending on your sofa, we offer 3 different styles to choose from:

Turkish Corners Pleat          Box Style           Knife Edge
The most common types of back foam are:
Medium Cluster-fill With Casing is the most common type of filling to use for back cushions. The medium cluster-fill with casing adds to the appearance as well as the comfort, as this foam will give a firm boxy style appearance to cushions.
HD23: This foam has a medium to soft feel. It offers a high degree of comfort and will retain its shape and density. This foam grade is high density soft foam. This kind of foam has rubber-based characteristics meaning it will not break down as quickly as ordinary foam. If you are looking for comfort and durability, then this foam is right for you.
Plush Foam: This foam has a soft feel with a good quality. It is commonly used for the back of a sofa cushions, but does not last as long as HD23.