Foam Wedges and Foam Bed Wedges
Saturday, July 25, 2020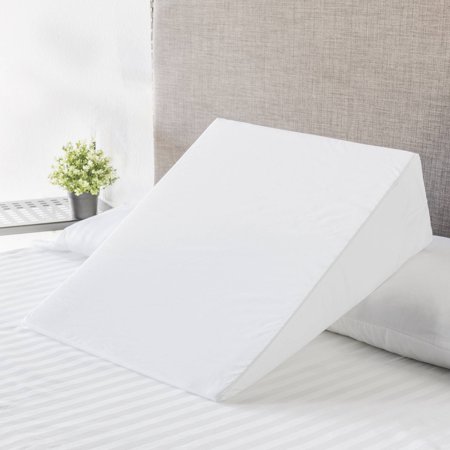 When you think of foam wedges, do you ever think of cushions? Medical wedges may come to mind to those that elevate their legs to improve blood circulation. However, did you know you could get a wedge for your mattress?
Many people stay up at night suffering from heartburn due to lying flat on a traditional mattress. Certain medical conditions such as this lend to improve with gravity by having the head elevated preventing the acid from coming back up irritating the esophagus. Relief can be found by simply adding a foam wedge pillow that works with gravity to prevent such medical problems. Below we'll compare both regular foam wedges and bed wedges to show the advantages of each.
Wedges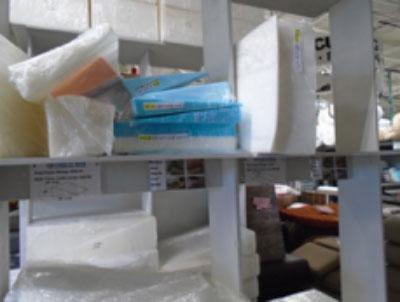 At Foam N More, we offer custom cut foam wedges as well as readymade foam wedges for various needs.  From a leg prop to elevating your back, we have many options available to you.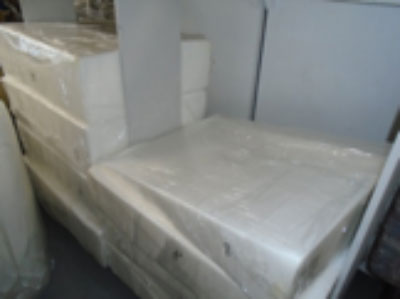 In our showroom, we have foam body wedges precut from 4" to 10" thick. They are 36" long and 27" wide as referenced in the diagram below. 

They range in price from $18.00 to $48.85. Covers can be made to keep them clean at an additional cost. These foam wedges are cut and ready-to-go.
In the showroom, we also sell other foam cut pieces for health use.  From leg pain to neck support, we have foam wedges ready for purchase.  The leg wedge shown in this picture is curvy to allow your knees to bend comfortably while offering a stable foundation for your feet to rest. It comes with a cover so there's no need to add it on.  The foam leg wedges are particularly useful for those with diabetes or anyone with edema in their feet.  These sell for $43.93 and are ready to purchase.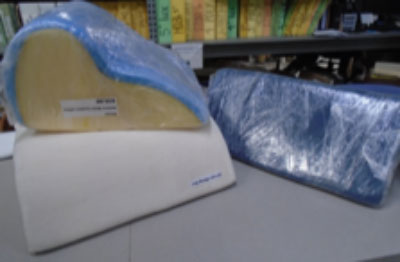 Also shown in the top of this photo is our foam neck pillow designed to relieve neck pain. Its shape allows the user to lean their neck around the bigger bolster section allowing gravity to pull down on your neck at a safe angle reducing neck pain caused from stress.  The added cushion over the poly helps to relieve the neck pain while providing comfort as well as a smooth feel on the exposed skin.
The other foam wedge pillow shown in the picture is an angled wedge. It comes covered in a fabric. Each of these 3 foam wedge options will help provide comfort to your body and best yet are available in the showroom for walk in pick up.
Looking for some extra comfort? We can add a memory foam topper to all of our foam wedges to make them softer to the touch and feel.  In addition, foam wedges are portable so they are no problem to move them to another bed.   They are lightweight to transport yet sturdy enough not to move while your lying down on them.
If these foam wedges are not exactly what you need, Foam N' More offers custom foam pieces as well.  Please provide a drawing similar to the diagram above and we will work with you to create a custom foam piece for you.   
Bed Wedges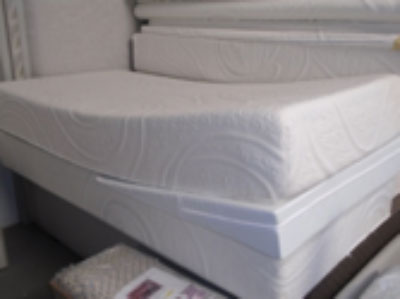 Bed wedges are an option for those that still want that incline but also want a full mattress tilt instead of just an additional pillow on top. We have options that give you the elevation without having to spend a fortune.
By elevating the mattress, you get the incline without having to section off the bed by using individual top wedges. You can also use full mattress size foam wedges as a mattress topper so it lies directly on the mattress without having to lift your mattress up to slide a foam wedge in.
These foam bed wedges come in all standard bed sizes starting at $23.00 for a twin size with poly foam all the way up to king size for $77.95 for a 4 ½" thickness. These foam bed wedges can be customized using our high-density foams instead of basic poly and also add a memory foam topper for additional comfort. Memory toppers start at $38.85 for a twin-size mattress with a 1" thickness and is also available in a 2".  Add a cover that has a zipper so it can be washed as shown in the picture with our optional fabric selection to ensure that the foam is protected while you lie on it.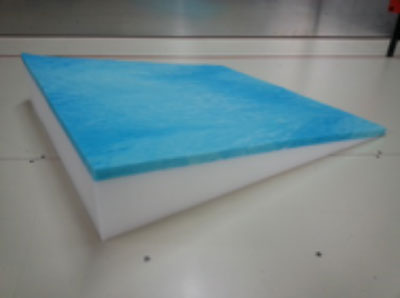 A bed wedge is helpful for people with medical conditions such as GERD or acid reflux.  Symptoms can be managed by elevating your head keeping the stomach acids from rising up ensuring you a good night's rest.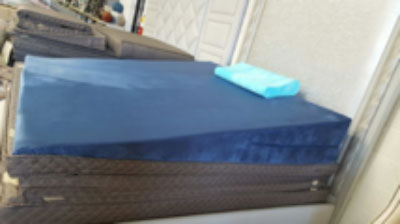 These foam wedges come in different thicknesses ranging from 4" to 12.5" thick.  This foam bed wedge is also an excellent option for side sleepers.  Give us a call today to discuss options for your bed so you can get back to a good night sleep soon!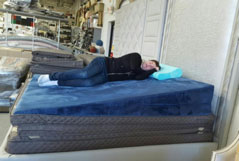 Foam N' More: Foam Fabricators and Custom Foam Packaging in Michigan
Foam N' More offers many options for foam wedge needs.  We provide wedges for both bed and body support as well as custom foam shapes and sizes.
Call Foam N' More, the foam fabricator specialists today at (248) 284-0002 for any questions you may have about foam support wedges and foam bed wedges.