Custom Cut Foam Packaging
Wednesday, July 29, 2020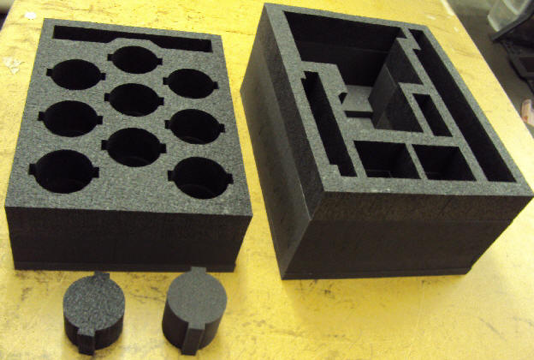 The expert foam fabricators at Foam N' More can custom cut foam for all your packaging needs.  If you need to add quality custom packaging to protect your products, our solutions can custom pad all your products and equipment in a case of any shape and size.
Our custom foam inserts are lightweight and offered optionally between open and closed pore structures.  From charcoal foam, minicell foam, and polyethylene foam, our packaging inserts are excellent for padding cases with sound or video equipment, import or export shipping, general warehousing and handling, and more.
Why Choose Foam N' More Packaging?
Foam N' More can create custom foam cushioning for your packaging product. Choose from a variety of open-cell foams or closed-cell foams for valuables to be protected in all directions.  Eliminate expensive die-cutting and opt for more affordable packaging options.
Our packaging expertise has proven that we are the answer to all specialty packaging needs required by the manufacturing sector.  During our production process, we offer prototypes to ensure the foam matches your needs.  We have different specialty foam inserts that are high-performance packaging material that is designed to ensure high-density foam protection.  Its unique cushioning abilities allow you to package your items with minimal material required.
Different Options for Different Needs
Charcoal Firm Open Cell Foam: Charcoal firm foam cushions your items and is a cheaper alternative for padding your products during shipping or carrying it around from place to place. Can be used for instruments, tools, hobbies, and delicate items.
Closed Cell Foam: Polyethylene and minicell foam is a stronger material for the heavy usage that is durable but smooth to the touch. Most common for computer equipment, hand tools, and heavy machinery.
Pick N' Pluck Foam: Our Pick N' Pluck foam option is done with our WaterJet machine.  The Pick N' Pluck option can be cut into any thickness and any size. Easily pull out 1″ x 1″ perforated foam squares to match the product's shape.  Pick N' Pluck is can protect cameras, phones, delicate electronic equipment, booklets, silverware, utensils, knife collections, CD cases, instruments, tools, jewelry, flashlights, glass, handguns, and computer cases.
Anti-Static Pink Foam: Our anti-static pink foam protects and cushions your electronic delicate equipment during shipping.  This type of foam is specially made to prevent electrostatic charges from the mechanism itself and other objects; or when people transport and touch this item.
You can have numerous cuts of foam with level padding and individualized depths and sizes for optimum protection for your products and equipment.  For example, in a protective gun case, we can optimize the foam cuts to include inserts for the rifle, ammunition, scopes, and even a logo, brand image, or stylized letters for added customization.  Suede fabric can be laid on top of the packaging inserts for a long-lasting, stylish design.  Let us know how we can help make your foam case look and work the best for you, whether it's for personal or professional use.
In-House WaterJet Foam Cutting Service
Our WaterJet cutting has the ability to cut through both closed-cell and open-cell foam.  A jet stream of water is projected at high pressure for precision cutting and piercing at accuracies of ± .005.  This kind of machine creates smooth, precise cuts of the foam designed specifically for your products and equipment.
We can build prototypes for your specified needs upon request.  For more information on pricing and building a prototype, contact us today with a drawing with the type of foam, sizes, and quantity desired for accurate prices.  To reduce the price of the setup charge we will need a .dxf or .dwg file of the drawing.  If you don't have a .dxf or .dwg file of the drawing, send us a .jpg or .pdf file and we can take it from there.
Let us know what kinds of products and equipment you need to be packaged.   Whether it's audio/video equipment, glass products, or a telescope, we can determine the best quality foam for those exact purposes.  Once we understand the purpose, we can cut foam for any and all your specialty packaging needs.
Foam N' More: Foam Fabricators and Custom Foam Packaging in Michigan
Foam N' More offers many options for foam packaging.  With our custom cut options, we have many solutions for your foam packaging needs.  Call Foam N' More, the foam fabricator specialists today at (248) 284-0002 for any questions you may have about custom cut foam packaging near Troy, Michigan.