Custom Foam Pet Beds for Our Furry Friends
Wednesday, October 21, 2020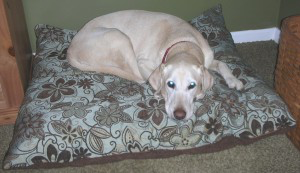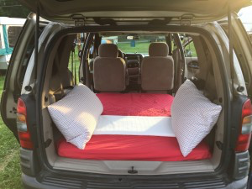 We all love and adore our pets and nothing says we love them more than providing them with the utmost comfort.  Here at Foam N' More, we manufacture custom-cut foam for pets from their nighttime bed cushions, travel cushions in the car, and foam staircases.  Since we manufacture foam on-site, we can create the perfect pet bed just for your furry friend.  With all sorts of dimensions, you can truly create the bed of your pet's dreams!
Our in-house foam fabrication will produce some of the most comfortable bed cushions your pet has ever laid on.  Not only will your pet enjoy a better night's rest or a long car ride, but they will also sleep with improved circulation for less repositioning as well as a reduction in pressure points that can cause significant inflammation, pain, stiffness, and discomfort.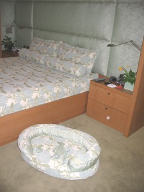 Our foam beds for pets will come standard with custom sewn channel strips so that the foam will stay in one place.  Gone are the days that your pet finds discomfort in shifting fillings and depleted pillow inserts.  These beds will stay in tip-top shape and never have any more clumps for a fuller, fluffier, and plumper appearance.  Not only are our foam inserts the best for your pet's midday nap, but the foam padding is supportive, contouring perfectly to mold your pet's body and making it their new favorite spot to take a rest.
Do you have an older pet with increased inflammation, arthritis, or other muscle aches and pains?  Providing support to elder pets is what our foam will do best.  The versatile material in the foam allows warmth to circulate better in draftier areas for a better rest.  You might even have a custom fabric you would like used for your pet's new bed.  These beds for pets are luxuriously comfortable and will allow those elder pets to enjoy their rest time with your furniture.  Plus, we can create the bed to fit in any corner so it doesn't obstruct walking paths.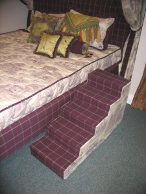 In addition to the benefits of a foam bed for elder pets, we can also create custom foam staircases for pets leading up to your couch, bed, or car.  These custom staircases will make life so much easier for your elder pets and your pets too small to jump, like toy breeds.  A foam staircase is ideal since it is lightweight but heavy-duty, holding up to 200 pounds.  Again, we can customize the fabric material to match your room, linens, and more.
Here at Foam N' More, we understand that buying through the middleman can be timely and expensive — but not anymore!  By offering a wide range of products, our custom-cut foam can be designed to use for the most comfortable seating for resolving those back and leg strains!  Our foam products are made from all kinds of materials including our standard poly foam to a premium high-density foam for the ultimate comfort.
Foam N' More: Commercial Foam & Seat Foam Manufacturers in Michigan
Custom foam packaging is a truly optimal way to enjoy the utmost comfort in your home, business, or on the go.  We would like to hear from you, so let us know how we can help you by filling out the contact form on our website.  Give us a call at Foam N' More, the foam fabricator specialists, at (248) 284-0002 for any questions you may have.  We specialize in mattress foam and mattress padding, outdoor foam, pillow foam, bulk closed-cell foam, patio cushion replacement foam, or any type of minicell foam or polyethylene foam near Troy, Michigan.