Back Cushions
Friday, November 27, 2020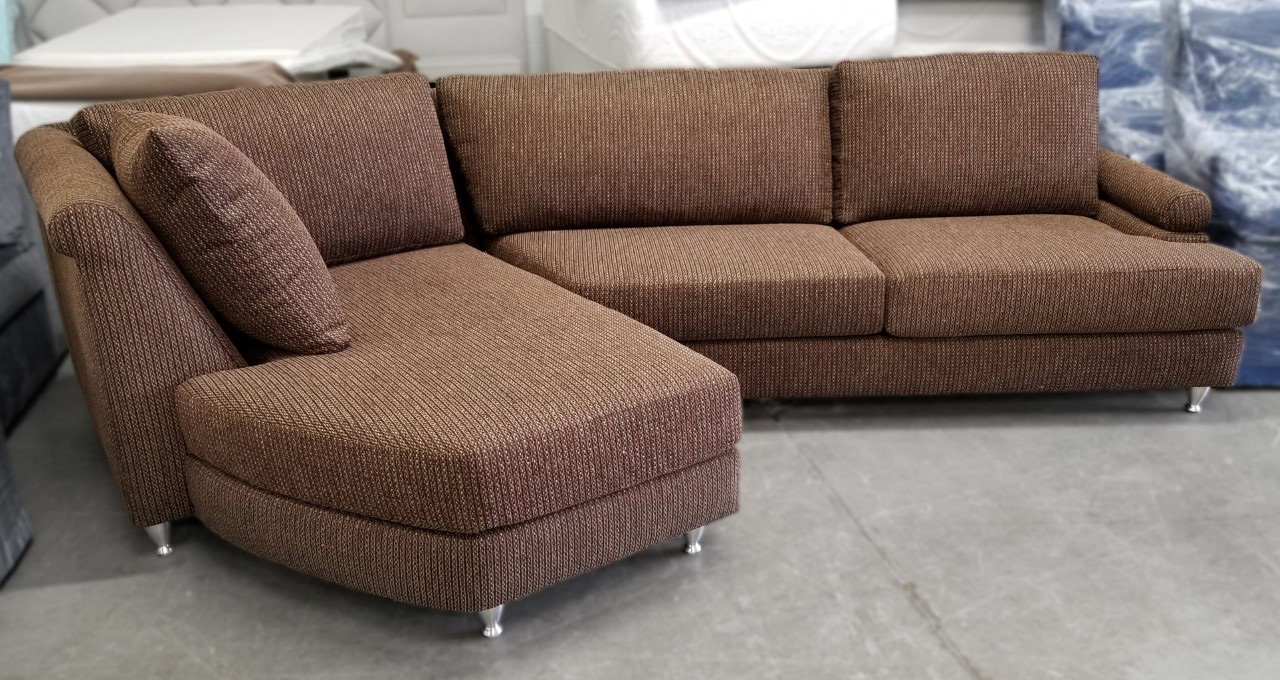 There are many choices that you can do to make your back cushions look brand new again. Getting a brand new sofa can be expensive so concerned about adding or making new insert fillings.

First, take a look at the shape of what your back cushions look like. There are three choices!
| | | |
| --- | --- | --- |
| Box Style | Knife Edge Style | Turkish Corners Pleat |
Then determine what type of filling you would like to go with:
Option #1: Poly filling is also known as cluster filling. If you are considering this option take a look at your original casing. Make sure the casing is not damaged. If this is true then we can sell you cluster filling by the pound. This depends on the side of your back cushions, but it may be around four to 10 lbs. depending on if you want to add to your existing filling or do all new.
If the insert cannot be fixed, then it is best to get a brand new casing. Our casing has three horizontal channels to hold the filling in place so that it does not sage. The more filling you add the firmer the cushion will become and more like to hold it shape.
Option #2: Feather & Down is made with 25% down and 75% (goose) feather and can also be sold by the pound, or can be custom cut in a new casing to fit any shape and size with three horizontal channels to hold the filling in.
Both poly filling and feather will give the cushion a plusher softer look and is most common in back sofas, love couches, and chair back cushions.
Option #3: Foam with double Dacron wrap is recommended if you never want to fluff your back cushions again or if your dog, cat or kids lay or sit on top of your back cushions. Going with foam is a boxier, stiffer looking option as opposed to #1 or #2 as listed above.
Below is an example of knife-edge or boxy style foam cushions. The soft foam with a double Dacron wrap is still very comfortable to lean your back on.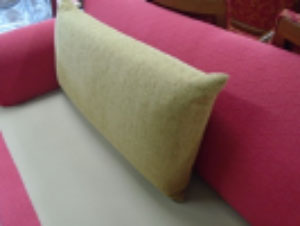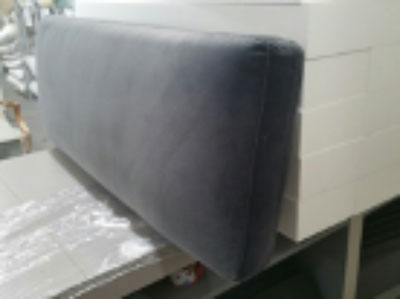 Knife Style                                   Knife Style

There are two types of foam that can be used. The HD23 with double Dacron wrap is a commercial grade material that is recommended in hotels and restaurants where the Plush soft foam with Dacron wrap is recommended for residential homes.
How to Measure Back Cushions:
The first option is to mail or bring in the covers. This is the easiest and comforting option to go with because having us measure for you will give you an end result that you will be very satisfied with. If this is not an option, then making a paper template or giving measurements is your second option.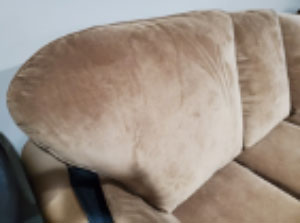 Photo A
If you have an L-looking shape back cushion (like Photo A) then it may be best to make a paper template so that we can follow exactly that shape.
If your back cushions are square or rectangle shape, then measure the width and length like Photo B: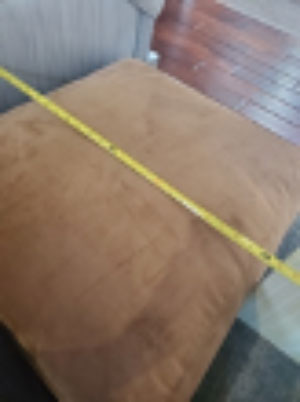 Photo B
For the width and length lay a flat ruler and measure the biggest width and the biggest length from end to end. With the filling, it is best to add 1" extra on the width x 1" extra on the length.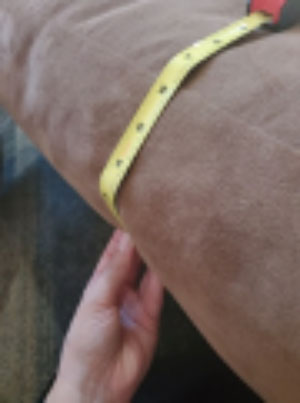 Photo C
The next Photo C measures the thickness. We will need the thickness from seam to seam and the thicker thickness by laying a flat ruler and measure the biggest thickness. In this photo from seam to seam measures 6" thick and the biggest thickness was 9" to give the cushion a big crown look.
Here at Foam N' More, we understand that buying through the middleman can be timely and expensive — but not anymore!  By offering a wide range of products, our custom cut foam can be designed to use for the most comfortable seating for resolving those back and leg strains!  Our foam products are made from all kinds of materials including our standard poly foam to a premium high-density foam for the ultimate comfort.
Foam N' More: Commercial Foam & Seat Foam Manufacturers in Michigan
Custom foam back cushions are truly an optimal way to enjoy the utmost comfort in your home and lounge in your couch or recliner without affecting your back.  We would like to hear from you, so let us know how we can help you by filling out the contact form on our website.
Give us a call at Foam N' More, the foam fabricator specialists, at (248) 284-0002 for any questions you may have.  We specialize in mattress foam and mattress padding, outdoor foam, pillow foam, bulk closed-cell foam, patio cushion replacement foam, or any type of minicell foam or polyethylene foam near Troy, Michigan.